ORICE team members and community partners are constantly collaborating on projects and initiatives. Learn more about each project and how you can get involved.
Collective for Gender+
The Collective for Gender + in Research focuses on capacity building and providing tools researchers need to utilize a gender+ lens.
Learn more arrow_right_alt
Human Rights Collective
Human Rights Collective initiative at UBC spans across the three core pillars - protection, learning, and advocacy.
Learn more arrow_right_alt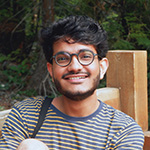 The answers to some of the most difficult questions in the world can sometimes be arrived at by simply re-framing the question to start with. Instead of approaching a challenge through the perspective of overcoming a deficit, it is high time we start thinking about how to leverage the already established assets in a community in our quest for a suitable solution.
Sahil Kanani
Student in SHARP Mental Health Engagementship, 2020