The Scholars at Risk and Human Rights Collective initiative at UBC spans across the three core pillars – protection, learning, and advocacy.
Led by Dr. Jenny Peterson, this project aims to develop resources and support faculty across multiple departments to integrate Scholars at Risk and Human Rights research projects into their courses. This project primarily focuses on the learning and advocacy of the Scholars at Risk mandate and complements the protection work carried out under the VP International.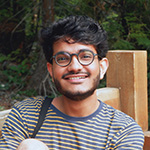 The answers to some of the most difficult questions in the world can sometimes be arrived at by simply re-framing the question to start with. Instead of approaching a challenge through the perspective of overcoming a deficit, it is high time we start thinking about how to leverage the already established assets in a community in our quest for a suitable solution.
Sahil Kanani
Student in SHARP Mental Health Engagementship, 2020