The UBC Human Rights Collective (UBC HRC) is a welcoming community collective for scholars including students and faculty at all academic levels, community, organizations and institutions across disciplines committed to examine, collaborate and act towards the advancement of human rights. UBC HRC is part of the Office of Regional and International Community Engagement (UBC ORICE) and partners with organizations such as the Scholars at Risk Network, and the Dallaire Centre of Excellence (DCOE).
Building upon a foundational understanding of the role that academic freedom plays in the work that we engage in as a collective, we commit to holding an accessible, critical, caring and reflexive space of engagement. Our work acknowledges power and positionality and we act in solidarity regarding human rights abuses.
The goals of the collective aim to develop, support and secure resources for a community of praxis of engaged scholars, who lead and participate in teaching and learning, research, solidarity and community engaged action towards the advancement of global human rights. We support faculty in teaching initiatives and through partnerships with local and international organizations working in the field of human rights within our network.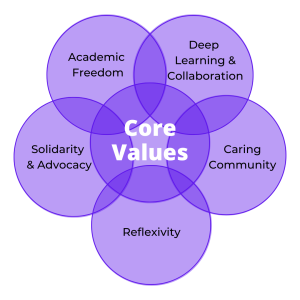 Origin Story
The Human Rights Collective (HRC) emerged out of a partnership with the Scholars at Risk (SAR) Network, originally focusing on projects that supported SAR's learning and advocacy goals. This complemented the protection of academic freedom work carried out under the VP International. Led by Dr. Jenny Peterson, the experiential human rights research project started as the PURE-Funded project (2019-2022) and we are now working to consolidate and expand our programming in ways that support and engage with other human rights focused learning opportunities at UBC.
This Collective was made possible by various student alumni, whose work, vision, and values shaped us. Here are some of the student alumni: