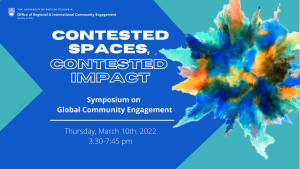 The Office of Regional and International Community Engagement (ORICE) will host the 2022 Symposium on Global Community Engagement on Thursday, March 10th, 2022.  The theme of the symposium for this year is "Contested Spaces, Contested Impact", and we invite students at all academic levels to present on their community engaged scholarship.  A broad interpretation of the theme is welcomed, but in selecting it we have considered some of the many questions that arise in community-university collaborations including physical and psychological questions of belonging, safety and power.  We have considered conflicting and differently understood standpoints, expectations, motivations and purposes of engagement and in turn consider how the question of meaningful impact is also contested.  Impact for who? By who? In what ways? 
We look forward to engaging in dialogue and learning together about these and many other questions throughout the symposium.
Registration
Due to the ongoing COVID-19 pandemic, this symposium will be primarily virtual on Zoom. All sessions will be offered online and there will be one in-person session to watch the keynote and debrief with fellow colleagues.
Schedule
Time (PST)
Session
Presenters
3:30-4:30 pm
Concurrent Session 1
1a. Exploring Community-Based Research and Data Justice. An introduction to a new resource guide produced by the UBC Gender + in Research Collective (Zoom)
Anneke Dresselhuis, Balie Tomar, Kristin Kilgallen, Sophie Sargent, Victoria Barclay and Solal Quere.
1b. Engage community to envision community: Co-creating a food hub on campus. (Zoom)
Min Kim, Amy Dong, Raveena Gowda and Shadow Feng (UBC Wellbeing)
1c. Mapping of Unchartered COVID-19 Evictions: Are Women Disproportionately Affected by Job Loss? (Zoom)
Cheryl Lee Madden


4:30-5:00 pm
Break
5:00-6:30 pm
Keynote: Transforming Research Through Community-led Processes
Dr. Sasha Costanza-Chock
a. Online through Zoom
b. In-person watch party at the Place of Many Trees in the Liu Institute
6:30-6:45 pm
Break
6:45-7:45 pm
Concurrent Session 2


2a. Working with the Power and Positionality Wheel for Food Justice and Systems Change. (Zoom)
Mikaela Hudson, Joanne MacKinnon (Little Mountain Neighbourhood House)
2b. It's Not Gender as Usual: Guiding Questions for Transformative Intersectional Gender+ Research (Zoom)
Claire Okatch, Hannah Facknitz, Elaina Nguyen
2c. Youth Climate Ambassadors Project (Zoom)
Esme Decker, Anna Brookes, George Radner (UBC Climate Hub and Be the Change Earth Alliance)
2d. Compassion over comprehension. Examining and challenging the implications of the gender binary and the colonial us vs them mindset. (Zoom)
Nasyta Mozolevych and Jay Quong
2e. Post-keynote discussion and networking in the Place of Many Trees, Liu Institute. (Zoom)
Hosted by SPPGA REDI Collective Members
Keynote Speaker: Dr. Sasha Costanza-Chock
Transforming Research Through Community-led Processes
Join Dr. Costanza-Chock in a discussion about design justice principles and how these principles can transform community-engaged scholarship.
Note: For those who would like to watch the keynote with other UBC community members and debrief over a light meal, we will be hosting a watch party and debrief session in the Place of Many Trees in the Liu Institute on campus. Individuals can select this option on the registration form.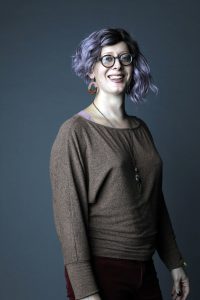 Sasha Costanza-Chock (they/she/elle/ella) is a researcher and designer who works to support community-led processes that build shared power, dismantle the matrix of domination, and advance ecological survival. They are a nonbinary trans* femme. Sasha is known for their work on networked social movements, transformative media organizing, and design justice. Sasha is the Director of Research & Design at the Algorithmic Justice League (ajlunited.org), a Faculty Associate with the Berkman-Klein Center for Internet & Society at Harvard University, and a member of the Steering Committee of the Design Justice Network (designjustice.org). They are the author of two books and numerous journal articles, book chapters, and other research publications. Sasha's latest book, Design Justice: Community-Led Practices to Build the Worlds We Need, was published by the MIT Press in 2020.
Concurrent Sessions Descriptions