"The course was the most formative course of my undergraduate degree. It helped me understand historical contexts of racism, how health equity makes everyone better off, the co-occurring Covid-19 and opioid crises, social infrastructure as a tool to strengthen bonds in communities, and so much more"  – Grace Nie 
Last fall as the pandemic unfolded, Dr. Katherine Lyon, an instructor in the UBC Sociology department developed a course on COVID-19 & Society. As part of the student's work for the course, students collaborated with local and regional community organizations to create an infographic on a topic related to COVID-19 that is important to educate the public about. ORICE helped facilitate these connections between the students and community organizations in Vancouver and across the country, on aligned topics and areas of interest such as gender, sex/sexuality, race/racism, class inequality, health/healthcare, age/ageism, economy, work, globalization, urban planning, social interaction.
Grace Nie, Simon Huang, Daria Tai, and Michelle Liu 
Why did you sign up for Covid-19 & Society Course?
I wanted to disentangle Covid-19's effects on people around me and across the globe. Thinking along the lines of the 'butterfly effect', I wanted to learn about the direct and indirect effects of Covid-19 on society – not just on health and wellbeing, but on political stability, the environment, the economy, and more. My hope was that this highly topical course could expand my perspective beyond my personal experiences to learn how we can better organize, be present for one another, and respond during times of crisis.
This course included an experiential education assignment where your team developed evidence-based infographics for a community organization related to COVID-19.  What was this experience like?   
The experiential education assignment was unique to this course and presented an opportunity to apply theory from the classroom into something meaningful for the community. Being able to choose which community organization to work with allowed us to work with like-minded students, while the assignment itself challenged us to re-position our goals beyond assignment completion for a good grade towards something that could bring value, promote information dissemination, and facilitate service connections in the community.
What did you learn about the community partner and how they are impacted by COVID-19?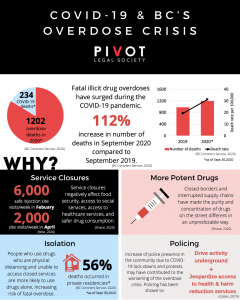 Our community partner, Pivot Legal Society, is a leading organization in fighting for drug policy change and decriminalization, among other human rights needs. They help highlight the voices of people who use drugs and work towards social change in the form of policy reform. During Covid-19, we observed unprecedented numbers of drug overdoses that were attributed to service closures, isolation, reduced clean supply, and other factors. We now know that it is time for us to support organizations such as Pivot Legal Society and people who use substances to shape more compassionate and evidence-based drug policies during times of Covid-19.
Monorme Chaudhury & Shirin Zohrabi
In what ways did the course meet or not meet your expectations?
We appreciated the meticulous approach to design the relevant issues concerning the evolving nature of this global health crisis. This course exceeded our expectations as we were consistently presented with academic work, new research conducted by graduate students and academic scholars, which helped us critically analyze these issues through a sociological lens. Specifically, the modules on Race and Racial Inequality, Gender, Sex and Gender Inequality, COVID-19, and the Environment, Age and Ageism, were of significant interest. With underlying issues of social inequality, scholarly research examined the impact on the well-being of those who belonged to marginalized communities within Canada and beyond, underlying challenging circumstances stemming from public health guidelines as well as policy and legislative frameworks across different cities, countries, and provinces.
This course included an experiential education assignment where your team developed evidence-based infographics for a community organization related to COVID-19.  What was this experience like?  
The experiential education assignment allowed for a sense of community engagement to emerge, during times of isolation and limited means of virtual communication that is present for specific population groups. Through this assignment, we were able to learn more in-depth about how COVID-19 has impacted the Downtown Eastside Women's Centre, and highlight voices that often go unheard.
What did you learn about the community partner and how they are impacted by COVID-19?
The Downtown Eastside Women's Centre (DEWC) is a community organization founded in 1978 committed to providing a safe space for self-identified women. The Centre provides refuge and shelter for women experiencing violence and poverty and provides basic necessities, such as meals, free clothing, secure mailing addresses, phone and computer access, among other essential services.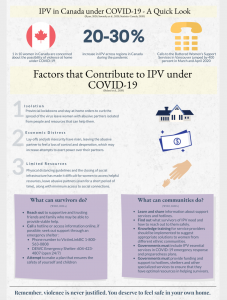 The gravity of the COVID-19 pandemic has impacted the DEWC greatly. The inability to run annual fundraising events has led to difficulties when it comes to running their meal programs as they are 100-percent donor-funded. Additionally, there have been concerns over a lack of safe space and access to critical services, which in turn exacerbate concerns of mental health, abuse, and gender-based violence. Throughout the process of designing our infographic, we learned that there has been an underwhelming amount of support from the City of Vancouver. The space the City has blocked off to provide more shelter space is not wheelchair or scooter-accessible, nor can the women be properly physically distanced. Ultimately, this limits the safe space that women can go to at a time, where rates of gender-based violence and poverty have increased.
What value did you receive from students working on infographics for your organization?
We shared screenshots of the infographics on social media and have the full reports/infographics on the 'Resources' page of our website. Most of my coworkers have seen the work and are interested in learning from them and bringing the lessons into our day-to-day operations. 
Have you observed any direct results from the use of infographics and the written justifications by your organization and audience?
This was one of many influences that showed us we needed to improve accessibility for all. We used to require folks to get referrals from partner organizations to join our programs. It was a lot of paperwork and required connections with such organizations. We now allow people to sign up through a simple online form. We removed questions about people's income so they don't have to "prove they're poor" but instead we just ask them if they feel they experience food insecurity (after we define what that is). People can still go to partner organizations if they're unable to do the form without translation or someone else reading and writing. We also used to do all communication/invoicing by email. We now have a Food Stash phone that people can call if they cannot read/write. We offer some limited translational services ourselves now and hope to someday expand this.
We have also added social justice as one of the topics we frequently cover in our education and advocacy work through social media, our website, and presentations. We were able to draw findings directly from the sources cited in the students' work for said communications.
What are some of your key takeaways? 
The way in which COVID-19 was proven to impact people unevenly based on pre-existing, systemic racial injustice.  

The way in which who experiences poverty and food insecurity follows patterns of historical and present racial injustice

The way in which racism, food insecurity, and the pandemic intersect to exacerbate one another
Dr. Katherine Lyon (Assistant Professor of Teaching, Department of Sociology) 
As a proponent of experiential learning within your teaching, what did you hope the info-graphic assignment would achieve in a way that differed from a general infographic assignment?
This infographic assignment is unique in that the topics, themes, and format were directed by community partner priorities. Students engaged in collaborative, rapid, and responsive knowledge mobilization based on how each community partner aimed to target and share information with specific groups (e.g. service users, organizational staff, the broader community, etc.).
Tell us about your experience of teaching a course on a global pandemic – during a global pandemic!  How did you and the students grapple with using evidence as it was changing daily?
This course reaffirmed the political roots of knowledge generation processes. As we discussed newly published COVID-19 research each week, we were able to unpack the sources and methods used to create this information and the implications of its rapid dissemination for social policy and public perceptions of coronavirus.
Community-engaged course components allow students to reflect and apply what they've learned beyond theories and discussions. Through this course, students were able to learn more about the work and needs of the community organization they were collaborating with and the direct impacts of the pandemic.