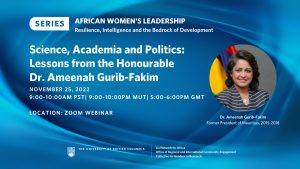 African Women's Leadership Series: Resilience, Intelligence and the Bedrock of Development
Science, Academia and Politics: Lessons from the Honourable Dr. Ameenah Gurib-Fakim
This event has been completed. Thank you to those who attended. A recording can be found below.
Date: November 25, 2022
Time: 9:00-10:00AM PST| 9:00-10:00PM MUT| 5:00-6:00PM GMT 
Location: Zoom Webinar
Event Recording:
This is the final event part of the African Women's Leadership Series where for the past year we hosted events to celebrate African women's outstanding contributions and examined the prevailing challenges that still require intensified investments for change to empower women. 
Join us for our final installment as we speak with Dr. Ameenah Gurib-Fakim about her extraordinary life as an academic and political leader in Mauritius. Dr. Ameenah Gurib-Fakim was the first female president of Mauritius, serving from 2015 to 2018. As a biodiversity scientist, professor, politician, entrepreneur, author and mother she has excelled in many domains, and will share lessons learned along her journey. This event will be moderated by Liliane Pari Umuhoza, a current UBC MPPGA student.
This event is brought to you on behalf of the Liu Institute Network for Africa (LINA), and the Collective for Gender+ in Research, hosted at the University of British Columbia's Office for Regional and International Community Engagement (UBC ORICE), all within the UBC School of Public Policy and Global Affairs (UBC SPPGA).